Include a Capital campaign into your fundraising initiatives to cover costs that aren't covered by your conventional fundraising. Use this playbook to execute a successful Capital campaign on GoFundMe Charity.
A Capital campaign is a need-based fundraising initiative focused on raising money throughout a specific period of time. The funds raised allow the nonprofit to then invest in resources that enable it o become more efficient and effective in carrying out their mission, such as new computers, a new facility to house animals or a new warehouse to ship goods.

All nonprofits need resources to propel their mission forward. Once an investment has been isolated as having a large potential impact on future growth and development, a capital campaign can help fund it. When running a Capital campaign, be sure to convey the benefits of the investment and be transparent to your supporter base how that investment will further the nonprofit's mission.
Strategic Functionality
Incorporate the functionality listed below to craft a successful Capital Campaign, leveraging the best practices we've included for each feature.
Theming and Section Management
Take control of your campaign page's look and feel by adding Theming to tell the story of your campaign.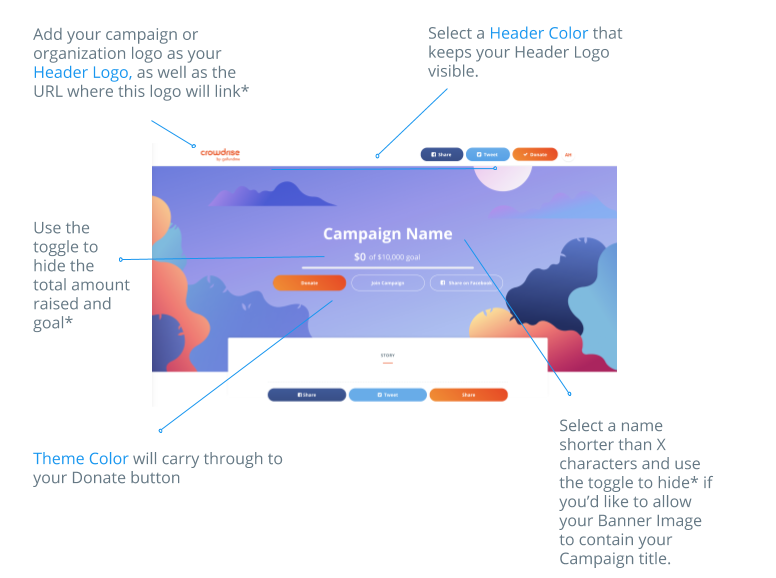 How to make the most of it:
Match your nonprofit's unique branding by adding your official colors and logo to the top bar of the campaign.
Select colors and images that represent your campaign's mission
Add a compelling video to grab the attention of donors that focuses on your campaign priorities
Utilize Section Management* to create custom page sections and display important graphics like sponsors, pictures of your nonprofit's capital campaign investment or instructions to give.
Campaign Updates
Keep your supporters engaged and up-to-date with your campaign progress by posting Campaign Updates often throughout the duration of your campaign.
How to make the most of it:
Send at least 3 campaign updates throughout your campaign to complement your usual messaging.
Inform your donors on how their donations have already made an impact. For example, equate your current dollars raised with a tangible outcome, eg. "Your donations so far have funded over half of our new warehouse space for the food pantry!"
Keep your donors updated on how close you are to goal, or other memorable milestones like progress year-over-year or number of donations received so far. Stats like these make people want to get in on the action.
For details on how to send a Campaign Update, Click Here.
Thanking Donors Tool
Thank those who make a contribution to your campaign directly from your Campaign Manager as soon as the donation is made.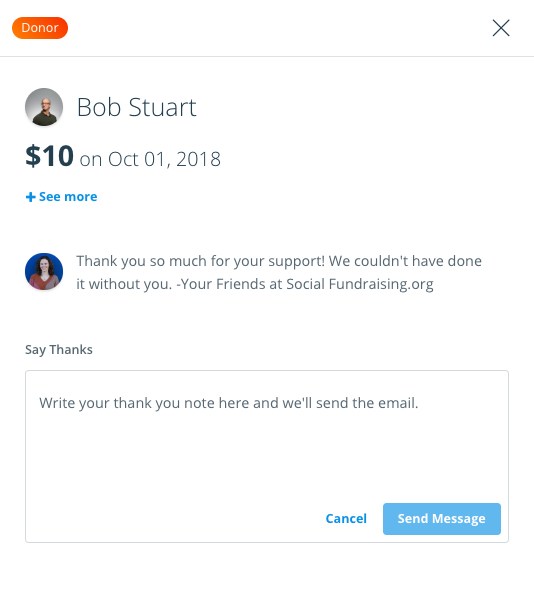 How to make the most of it:
Thank your donors in a timely manner shows you're responsive, grateful and invested in their support with just the click of a button.
Use the Thanking Donors tool in conjunction with a more formal thank-you, such as an email or physical letter, to connect with your donors at different times and emphasize the importance of their help.
Read more about about Thanking Donors Here.
Multiple Team Fundraising
Allowing participants to fundraise in groups will help spur friendly competition. Recruit teams of fundraisers (like your sponsors, board members or employees) to form groups and "compete" against other teams for who can raise the most money. Each team member gets his/her own campaign page to reach out to their own networks.
How to make the most of it:
Message your supporters to encourage them to gather their family, coworkers and roommates to fundraise for your campaign. Pooling all their networks together creates a huge amount of potential donors.
Provide incentives* to top fundraising teams and individuals, like a brick in the new office building, a placard or special tour.
Click here for specific instructions on how to add teams to your campaign.