In this article, we've provided an overview of how to access and navigate the data related to your donors and campaigns on GoFundMe Charity.
Accessing your GoFundMe Charity data allows you to understand how your supporters are engaging with your campaigns. Our new analytic and management tools give you the ability to ask new questions and make informed, data-driven decisions.
Choose a Report to access that data set
The first thing you will see when you enter your Report Center is a menu of 9 General Reports. These General Reports group your data based on common ways nonprofits organize and analyze data.
Transactions: Checkout activity on GoFundMe Charity, including donations and Registration & Ticketing transactions
GoFundMe.com Donations: Detailed info on donations made to your charity through GoFundMe.com fundraisers
GoFundMe.com Campaigns: List of fundraising campaigns and the amount of funds raised in each campaign that is benefiting your charity on GoFundMe.com
Multi-team Campaigns: Info on the progress of campaigns with multiple teams
Registration & Ticketing: Info on ticket items and corresponding transactions
Recurring Gift Plans: List of recurring donations made to your nonprofit, including donor and payment info
Individual Fundraisers: Data related to team and team member campaigns benefitting your nonprofit, including supporter info
Attendees: Transaction and fundraising details about participants in your Registration & Ticketing campaign, including answers to custom questions
Fundraising Teams: Details on your campaigns and their progress
WePay Withdrawals: View your deposit report if you set up a WePay payment account
Each data set is presented in a way that provides you with an overview of the most important takeaways for that report.
How to filter the data you view in your report
Use the dropdown in the top left-hand corner to change what data you view.
Pro-tip: Click into the Campaign or Fundraising Page filters to load campaigns available to be filtered during the designated time frame.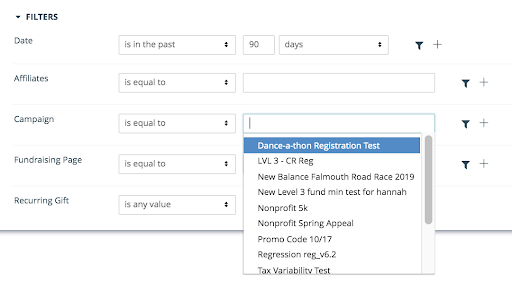 Strategic uses for the data in your Report Center
Your Report Center lends essential insight into your fundraising efforts. Take advantage of your Report Center data to:
Grow your supporter base to reach new audiences
Isolate new donors or fundraisers and get them on your contact lists to keep them updated about your mission and garner support for future initiatives.
Engage donors and fundraisers from past events
Pull last year's Fundraising Teams Report or a Transaction Report to reach out to everyone who participated last year and ask for their upcoming support. You may even consider matching them with a new or less successful fundraiser to share tips, or sending an email to showcase their work.
Reconcile donations and deposits
Pull a Transaction Report filtered by month to see exactly which donations should be included in which payout. This report includes WePay batch IDs to help you figure out which specific donations were contained in each WePay deposit.
Determine Who's Attending
Select a "Registration & Ticketing Report" to take a headcount of who is signed up, fundraising, and planning on attending your live event.
Integrate into your CRM
Download CSV, XLS, or PDF files from the report center to import into your organization's CRM or Donor Management Software to keep track of every gift and donor.
FAQs
Why don't I see the column with the data field I'm looking for?
If you're looking for a specific piece of information but don't see it, please try downloading the full report. You can also customize your report using additional data fields not presented in the report in its current state.
Why aren't fundraising minimums included in any reports?
Data on fundraising minimums is not included in the first version of the new Report Center. However, information on your supporters and their fundraising minimums can be exported directly from the Fundraising Minimums Manager in the Manage tool.
Why does it take so long for my data to populate in the new Report Center?
When analyzing the data in your new Report Center, you'll notice a delay between the time when a new donation or campaign is created and when it populates the data. Because your data must be integrated in a manner that is both accurate and secure, you will notice a delay between the time an action occurs, and when it shows up in your reports.
We completely understand how important it can be to see your campaign activity in real-time. Here are a few other ways to immediately view who has donated or joined your campaign:
Check your email for the confirmation of a new campaign or a donation notification

View your campaign to see new team members or donations

Log in and click on the Ca

mpaign Manager

to scroll down and see all activity on your campaign
Pro-tip: Consider scheduling a report to get your info when you want it. Rather than pulling a report manually on a weekly or monthly basis, the new Report Center allows you to schedule the report to arrive right in your inbox.
I clicked Download Data but I don't see my report in my downloads folder. Where is it?
Your data will populate in your downloads folder once the download is complete. Downloads that contain more information may take longer to appear. If you don't see it come through, please reach out to Charity Services.
Can I see which individual donations were included in each payout?
If your charity has PPGF as its selected payment partner, you can reference which donations were paid out in each batch by enrolling in their system and referencing the "Activity" tab in your dashboard.
If your charity has WePay, you can download a settlement report by doing the following:

Click on Reporting on the left-hand side.
Click the Settlements tab.
Click the

Download CSV

button next to the Settlement you want to reconcile.