Leverage Custom Sections in your Campaign Editor to tell a story and foster support for your multi-team campaign.
Creating a compelling case for giving back is one of the most important components of fundraising. In this guide, we'll show you how to leverage the tools on GoFundMe Charity to help you customize your campaign.
How to customize your fundraiser sections
Section Management functionality is available when multiple teams have been enabled, but you can turn off having multiple teams if you simply like the format and want to apply it to your single team or donate-only page.
To begin, go to your Campaign Hub and click the Edit icon for the campaign you'd like to make changes to. Locate the Add Multiple Teams Card.
Click the plus sign on the Multiple Teams button.
Then Click on the Campaign button to customize your sections.
From your campaign editor, you can manage your sections.
Header
The Header Section allows you to create a strong first impression when your supporters visit your campaign's landing page. It will remain locked as the top section to ensure the campaign name and call-to-action buttons are prioritized and visible to donors and fundraisers.
Header Image Specs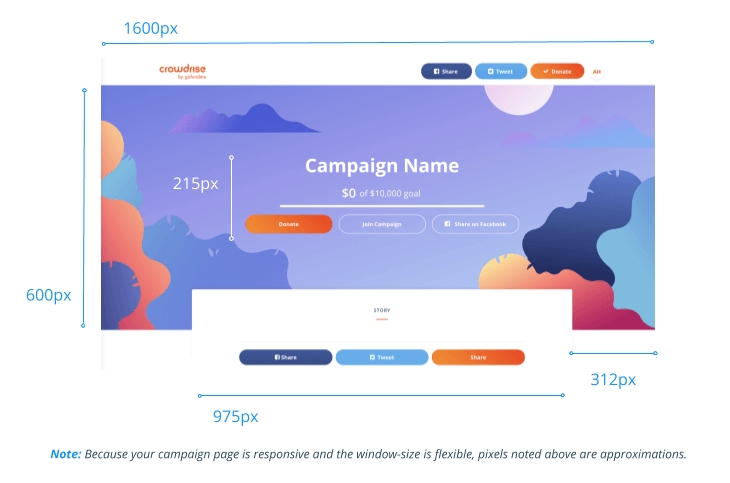 Header Best Practices
Select a high-quality Banner Image that portrays the mission of your campaign. Add a Banner Overlay to adjust the hue of your banner image by color and opacity to complement your Image.
To keep the buttons prominent, make sure to keep text, logos and faces limited to the top and sides of the banner image area.
Story Section
Nonprofits also have the opportunity to update the story Section Title as well as the Section Headline that is featured in your story section.
Gallery
The Gallery section is your opportunity to make an emotional connection with your supporters through visual imagery. Add up to 10 photos and 1 video, as well as change the Gallery Title to something new and Section Headline to better represent the goals of your campaign.
Photos can be uploaded as JPG, JPEG, GIF, or PNG. Max file size is 16MB and must be larger than 600x400 pixels.
Videos can be added as YouTube or Vimeo URLs. Make sure your videos are made public so that visitors to your campaign can view them. For more tips on video, check out The Power of Video and Video Do's and Don'ts.
Gallery Best Practices
Photos show your impact
Photos are a powerful way to tell your organization's story. Choose photos and video that will support your charity's narrative and cause. Strong imagery helps foster a stronger connection to donors and ultimately result in more donations to your cause.
Videos convert better
There's a ton of research out there about why video is way more effective than text. We're finding that campaigns that use our Campaign Update tool with a video are raising 5.7x more than those without video updates. It's a lot easier to create a video than you think-- you can upload it from your computer or even record it right from your phone. Be sure to include a clear call to action such as donate now, register, or join the team - in your video.
Logos build your brand
Just as they do with for-profit companies, supporters can become brand loyal in the non-profit space as well. It's a good rule of thumb to include your organization's logo in everything you do even if you have a specific campaign logo. This is a great way to create and build even more brand recognition with your supporters, fundraisers, and donors alike. People begin to recognize your logo and associate it with your mission.
Get Creative with the Gallery: Sponsors
Feature sponsor logos in your Gallery to share the impact they have had on your campaign with your supporters.
Leaderboard
Choose how you'd like to configure your leaderboard to feature teams, fundraisers, or both.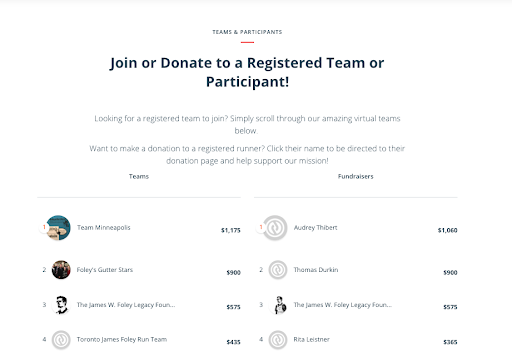 Add a New Section
Nonprofits have the ability to add up to 10 Custom Sections of their choosing.
Utilize Custom Sections to include any additional information not included in earlier sections. Add up to 5 photos per section.
Custom Sections are perfect for:
Featuring sponsors
Showcasing a previous event
Rewarding top donors/fundraisers
Telling Impact Stories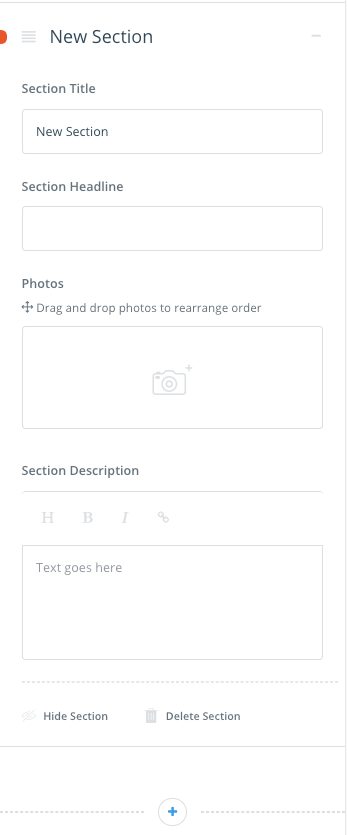 Rearrange and Hide Sections
Subscription nonprofits can drag and drop sections in the campaign editor to order the way in which the sections will appear on your campaign. Changes will be reflected in real time in the preview pane.
Don't have a need for a specific section? Hide it by clicking the 'Hide Section' icon at the bottom of each section editor.
Note: All sections must be collapsed in order to reorder your sections.
Great examples of customized campaigns
Check out these great examples of nonprofits leveraging the configurability features to showcase their cause.