Add dollars raised offline to your campaign to show the total impact of your fundraising efforts
Offline Donations reflect money that was raised outside of GoFundMe Charity, such as in the form of cash or check. Although this money was not processed through GoFundMe Charity, you still can reflect this contribution as an offline donation on your campaign so your amount raised on GoFundMe Charity more accurately represents your total amount raised.
The Offline Donation tool can be used to attribute donations that were made to your campaign and/or specific fundraisers outside of GoFundMe Charity. Types of donations often made offline are sponsorships or corporate matches.
How to add offline donations
1. Hover over your campaign tile in your Campaign Manager and select the "Manage" icon
2. From your Manage Campaign view, click the "Add Offline Donation" button.
Note: the Offline Donation will be automatically credited to your team organizer (if you have a standard fundraising campaign) OR the "General Donations" team (if you have a multi-team campaign).
3. Enter the Donor Display name, Amount and any notes (such as check number).
4. Click the "+" sign to continue adding donations, otherwise, click "Save"
To Add Offline Donations to a Specific Team/Fundraiser
1. Within your Manage Campaign view, scroll down to your Activity Feed and select "Teams" or "Fundraisers."
2. Click into a team or fundraiser and select Offline Donations from the top bar: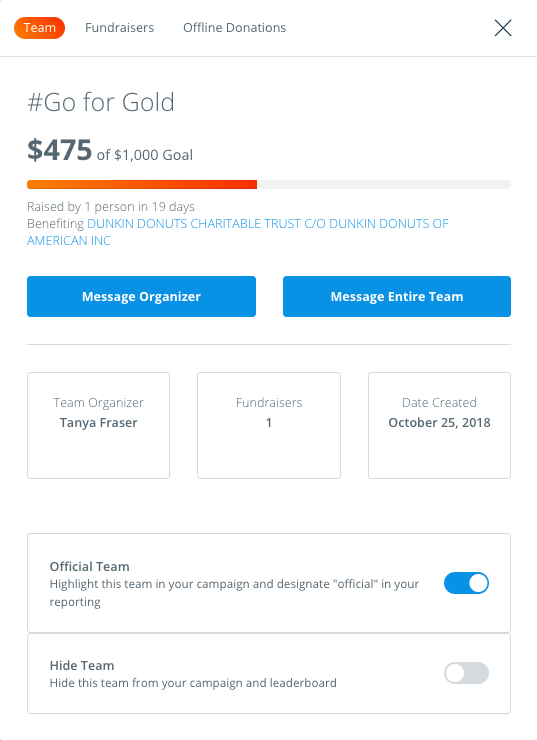 3. If adding a donation to a Team, the donation will be defaulted to credit that team's organizer.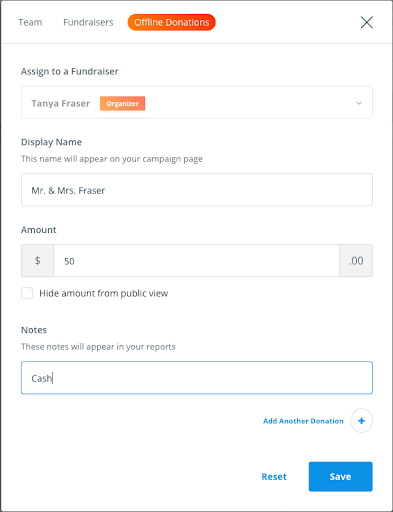 4. To assign to a specific individual fundraiser, click the "Fundraisers" tab and select the individual, then click "Offline Donations."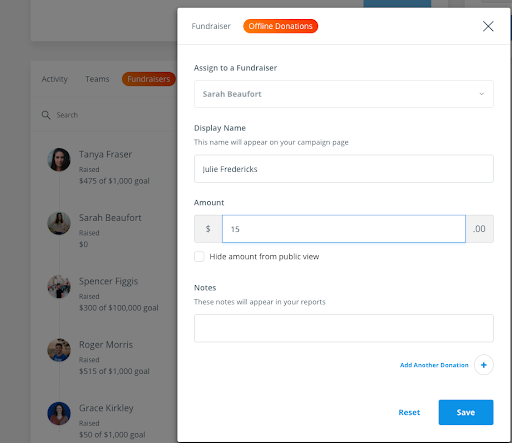 5. Click Save, and you're done! These donations will contribute to the overall campaign/team/fundraiser's goal.
Offline donation permissions
If you have enabled multiple teams as a part of your campaign, you have the ability to determine whether teams and fundraisers can add offline donations themselves. To access this toggle, click on the Multiple Teams card in your Campaign Editor and then click on the Settings tab.
Offline donation tips
Add notes for offline donations to keep track of your records. These notes will appear in your Donation Report in your Report Center.
Before launching your campaign, add any donations that you've received before your launch (such as sponsorships) so that your page doesn't show $0 when you send it out for the first time.