A Run/Walk campaign is tried-and-true method of fundraising. Follow the playbook to organize a successful Run/Walk campaign on GoFundMe Charity.
5ks, fun runs and walks are staples of nonprofit fundraising. A Run/Walk campaign combines competitive activity with friendly fundraising for a good cause. Take your event online to multiply its impact and take advantage of GoFundMe Charity tools to grow year-over-year.
Run/Walk campaigns are great ways to get large, diverse groups of supporters together in one place. They make it easy for your supporters to participate in your nonprofit's cause with little cost to you. Run/Walk campaigns are especially conducive to peer-to-peer fundraising because they spark friendly competition, team fundraising and large-scale community engagement both on and offline.
Activate the functionality listed below to craft the perfect Run/Walk campaign, leveraging the best practices we've included for each feature.

Multiple-team fundraising
Allowing participants to fundraise in groups will help spur friendly competition. Recruit teams of runners/walkers to form groups and compete against other teams for who can raise the most money. Each team member gets his/her own campaign page to reach out to their own networks.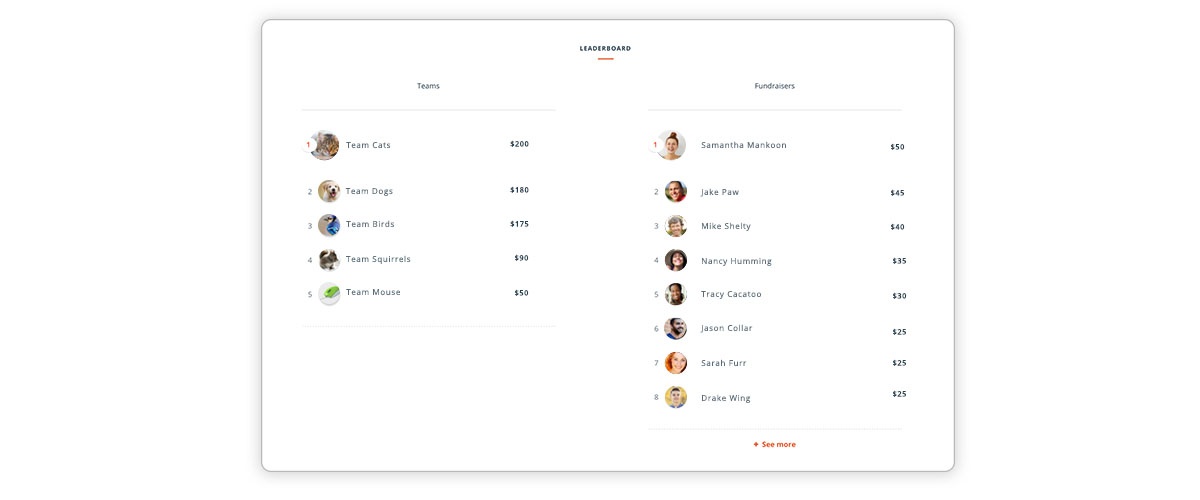 How to make the most of it:
Message your supporters to encourage them to gather their family, coworkers, softball team, or college roommates to fundraise and attend your event.
Provide incentives* for team captains to recruit more people to their team. For example, recognize the largest team or the team that raises the most money at the awards ceremony.
Click here for specific instructions on how to add teams to your campaign.
Registration/Ticketing
Collect an upfront participation fee and manage participant signups by adding GoFundMe Charity Registration/Ticketing to your campaign.
How to make the most of it:
Encourage supporters to get involved early by setting variable registration prices, such as "Early Bird" or "Late Registrant". For example, set your initial price to $20, then up the price to $30 one month out from the event.
Implement Promo Codes to give discounts on ticket prices, such as for your Sponsors.
Add a ticket option for 'Virtual Participant' for runners who support your cause but aren't in the area to attend.
Allow multiple registrants to register at once by enabling Group Registration. This makes checkout fast and easy for groups like families.
Click Here for detailed instructions on how to add registration/ticketing to your campaign.
Campaign Updates
Keep your supporters engaged and up-to-date with your campaign progress by posting Campaign Updates often and throughout the duration of your campaign
How to make the most of it:
Send at least 3 campaign updates throughout your campaign to complement your usual messaging Consider sending a few weeks prior to your event, during the event, and immediately afterwards.
Include content that your supporters care about. Relay important race-day information via the Campaign Update tool, like weather and parking details
Inform your donors on how their donations have already made an impact. For example, equate your current dollars raised with a tangible outcome, eg. "Your donations so far have provided over 100 vaccinations to at-risk children!"
Keep your donors updated on how close you are to goal, or other memorable milestones like progress year-over-year or number of donations received so far. Stats like these make people want to get in on the action.
For details on how to send a Campaign Update, Click Here.
Fundraising Minimums
Anticipate donation volume and stay under budget with confidence by setting a minimum amount each participant must fundraise in order to join your event.
How to make the most of it:
Consider your audience, goals, and registration pricing when setting fundraising minimums. Increase the minimum amount for races or events for which you would charge a higher ticket price.
Set checkpoints so fundraising seems a lot less daunting! Set checkpoints for fundraisers, which are incremental and more-attainable monetary goals along the way to a larger goal.
Send reminders throughout your campaign to participants with a minimum, and consider sending a personal congratulations once they meet their goal.
See here for specific instructions on how to set a fundraising minimum.