Swap your annual endurance event for a more formal golf outing and use the opportunity to tap into new audiences and fundraising locations. Follow the playbook for how to execute a successful Golf campaign on GoFundMe Charity.
A Golf fundraising campaign combines the fun of an outdoor leisure sport with raising money for your organization. Hosting a golf campaign is a great opportunity to get your supporters together to participate in a popular pastime while raising money for your cause.

A golf campaign is a fun group activity where your supporters can participate in an outdoor sport, meet other supporters and share their experiences with your organization. Often combined with a meal or post-event entertainment, a Golf campaign provides you with time to connect with your supporters and share important information about your mission and your goals. Golf events also offer great opportunity to reach out to the larger community, form corporate sponsorship opportunities and grow your supporter base from networks of golfers.
Activate the functionality listed below to craft the perfect Golf campaign, leveraging the best practices we've included for each feature.

Multiple-team fundraising
Allowing participants to fundraise in groups will help spur friendly competition. Recruit individuals to form foursomes or fundraising teams and compete against other teams for who can raise the most money. Each team member gets his/her own campaign page to reach out to their own networks.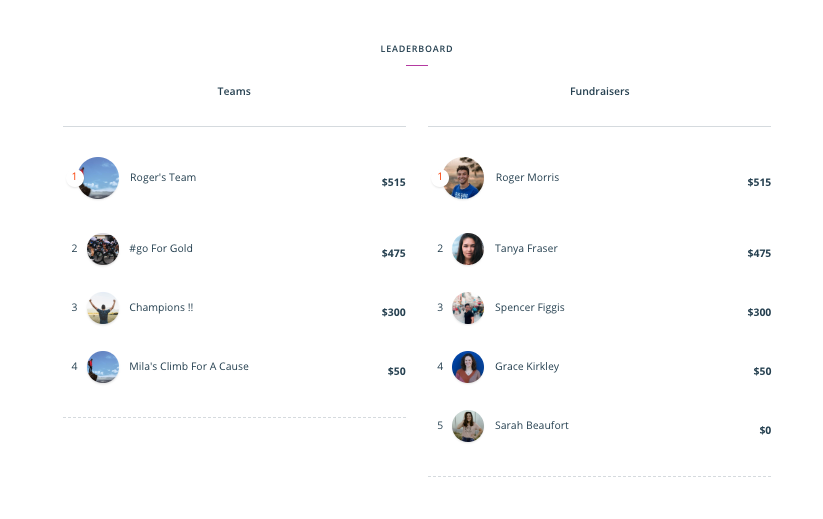 How to make the most of it
Message your supporters to encourage them to gather their family, coworkers, golfing buddies and country club friends to golf and fundraise for your program.
Provide incentives for team captains to recruit more people to their team. For example, recognize the team or individual that raises the most money at the awards ceremony.
Click here for specific instructions on how to add teams to your campaign.
Theming and Section Management
Take control of your campaign page's look and feel by adding Theming to tell the story of your campaign and customize it to your specific event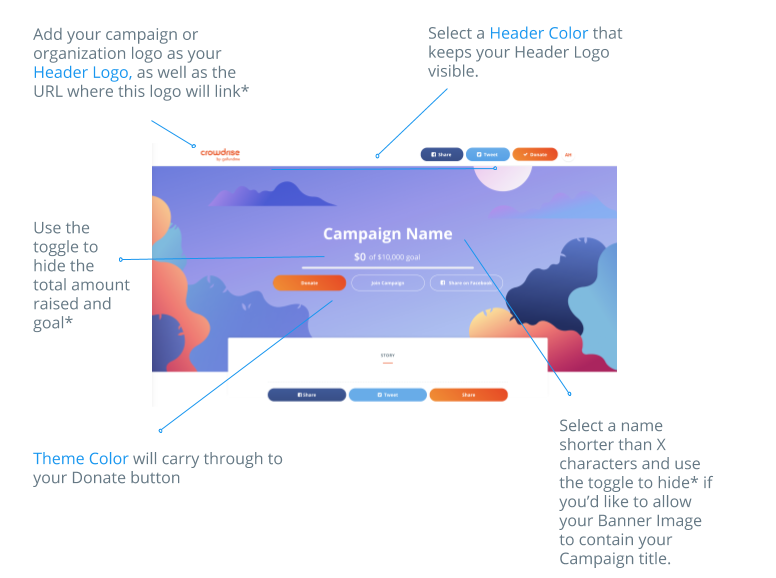 How to make the most of it:
Match your nonprofit's unique branding by adding your official colors and logos to the top bar of the campaign
Select colors and images that represent your campaign's mission, like golf clubs, tees and flags
Add a compelling video to grab the attention of your participants and gets them excited to participate
Utilize Section Management* to create dedicated sections of your campaign page to display your event sponsors and vendors' logos, event location, maps and more.
See Here for more information on customizing campaign types.
Registration/Ticketing
Collect an upfront participation fee and manage participant signups by adding GoFundMe Charity Registration/Ticketing to your campaign.
How to make the most of it:
Encourage supporters to get involved early by setting variable registration prices, such as "Early Birdie" or "Late Registrant". For example, set your initial price to $115 then up the price to $130 one month out from the event.
Implement Promo Codes to give discounts on ticket prices, such as for your sponsors, volunteers or vendors.
Add a ticket option for 'Virtual Participant' for golfers who support your cause by fundraising but aren't in the area to attend your event.
Add a ticket options for individuals or companies to purchase a sponsorship, for instance, "Title Sponsor," "Hole-in-one Sponsor," "Gold, Silver & Bronze Sponsors" etc.
Allow multiple registrants to register at once by enabling Group Registration. This makes checkout fast and easy for larger golfing groups or families.
Click Here for detailed instructions on how to add registration/ticketing to your campaign.
Fundraising Minimums
Anticipate donation volume and stay under budget with confidence by setting a minimum amount each participant must fundraise in order to golf or attend your event.
How to make the most of it:
Consider your audience, goals, and registration pricing when setting fundraising minimums. Increase the minimum amount for certain ticket types for which you would charge a higher ticket price like a VIP hole sponsor or upgraded meal options.
Set checkpoints so fundraising seems a lot less daunting! Set checkpoints for fundraisers, which are incremental and more-attainable monetary goals along the way to a larger goal, such as $250 by X date and $500 by Y date.
Send reminders throughout your campaign to participants with a minimum, and consider sending a personal congratulations once they meet their goal.
See here for specific instructions on how to set a fundraising minimum.