If you would like to set up tickets or enable registration you'll want to carefully set up your form carefully to ensure a great experience for your visitors. We recommend keeping this article open as you set up your page.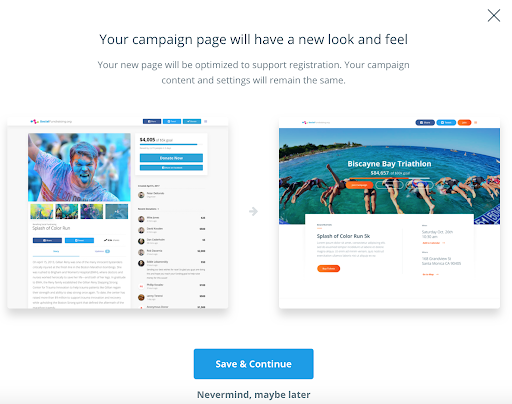 Registration settings
Registration Active
Select the date and times when you would like the Register button to be added or removed from your campaign. If your start date is in the future, you will not see a registration button appear.
Registration Required
This prevents participants from creating a fundraising page without registering first by removing the "Join Campaign" button from your campaign landing page.
Participant Cap
The maximum amount of participants allowed at the event. You can also leave this blank if there is no cap.
Accept Donations in Registration
Toggle ON to allow registrants to add an additional donation to their transaction at checkout. Once enabled, select the preset amounts and determine whether or not donors will have the option to cover fees.
Banner Image
The event banner should be larger than

1440x330

pixels.
The event banner will appear in the registration flow and at the top of the registration confirmation email.
Pro-Tip: Solid colors or a plain pattern are recommended as a banner images to keep emphasis on the registration options.
Setting up ticket options
Select Ticket Options on the left hand sidebar and click Add Ticket and add the details for your ticket option.
Add a Ticket Name that's as descriptive as possible. Here's some examples others have used in the past to give you some ideas:
Table for 8

Individual Golfer

Dinner/Auction

Adult Walker (Ages 10+)

Student Walker (Must Show College ID on event day)

Virtual Walker

Relay team of 4 (10 a.m. start time)
Add the Price that corresponds to each ticket option. This amount will be processed as a donation and the registrant will receive a registration email confirmation at the end of the transaction. For free options, enter $0.
Quantity refers to the total number of available slots or tickets you have to offer. Once this quantity has been reached, this option will be marked as "Sold Out" on your registration page.
Quantity is the total amount of tickets available, not necessarily the total number of individuals per ticket.
Note: Use the group registration feature to allow for more than one person to register per ticket.
To help this really sink in, here's an example.
Quantity is set to 10, the Limit Ticket Purchase per Order is 2, and Group Registration set to 2 people per ticket.
This means, one person is allowed to purchase up to 2 tickets at checkout. Once they do so, it will lower the quantity available for purchase to 8.
Since group registration min/max is set to 2, which means each ticket represents 2 people, someone buying 2 tickets, is registering 4 people for the event.
How many in total will go to this event under these conditions?
A ticket quantity of 10, with 2 people allotted per ticket = 20 people in total. This means that if someone buys 2 tickets, they are taking 4 out of the 20 spots for the event.
Tax Deductibility
Tax Deductibility allows you to determine how much of a ticket price is tax deductible for the buyer. Set the deductible amount by a dollar amount of the ticket cost, or a percentage of the ticket cost at any amount between 0-100%.
Once updated, the tax deductibility of all purchased tickets is itemized in the "Charitable Tax Deduction" section of the registration confirmation email.
Buyer Covers Fees
Enabling "Buyer Covers Fees" on a ticket allows the buyer to cover the purchase fees on their registration price at checkout. This means that the buyer's entire contribution will go to the benefiting nonprofit. Buyers have the option to toggle whether or not they wish to cover the fees in their transaction.

Users will see the following option presented at checkout:
Apply participant cap
Participants registered on this ticket option count toward the overall participant cap for an event. As an example, if you can only have 1000 bodies at an event, you can apply a cap to ensure that the sum of all the people who purchase ticket options won't go over that amount.
Official teams only
This tool help classify a team into a group that you may want to separate from other groups. In registration, it will show only official teams to join for the fundraising team on the campaign page.
Ticket Availability
Choose the date and time when you would like this ticket option to be available.
Registration will turn on or off at 11:59pm on the date selected, meaning registration will be open through the entire End Date day.
If you wish to extend registration after the date passes, you are able to edit and reopen registration by simply changing the End Date.
Tip: If you have variable ticket prices (e.g. Early-bird), you may enter date ranges that correspond with different prices.
Limit Ticket Purchase per Order
If you would like your participants to have a limit to the number of tickets they may purchase in one order, enter that number here.
Enable Group Registration
Group Registration enables multiple participants to register on the same ticket. Enabling Group Registration allows the registrant to provide information for each participant on that ticket. This feature may be used to collect information for:
A Family pass
A Gala table
A Relay team
And more!
While a user can choose to add more than one of each ticket type to their cart, enabling Group Registration allows you to collect information from all participants rather than just the individual purchasing the tickets (the Buyer).
Once enabled in Event Details, Group Registration is activated by configuring the Participant Min/Max on each specific ticket option.
Min/Max
In most cases, we recommend setting the Group Registration Min/Max at 1:1. This will make it so 1 ticket = 1 participant. This also ensures you receive all the necessary information for each participant.
If you're selling a ticket option for a relay team that requires 5 people, you would add set it to a Min/Max of 5:5.
If you're selling a ticket option for a table purchase with max amount of people at 4 per table, but no minimum amount, you would set your Min/Max settings to 1:4
Enable Fundraising
Toggle Fundraising on to enable registrants to create a campaign page during their registration transaction. Complete setup by customizing the fundraising options for each ticket type under Ticket Options.
If fundraising is required, a registrant must launch a fundraising campaign to complete their transaction.
Important Note: You must require fundraising on ticket options when you want all participants to create fundraising pages. We recommend requiring fundraising to ensure the most amount of participants launch campaigns.
Join Team:

Participant joins an existing Fundraising team on campaign
Create Team:

Participant creates a new fundraising team
Fundraise as an Individual:

Participant creates a new fundraising team as a single person, which others cannot join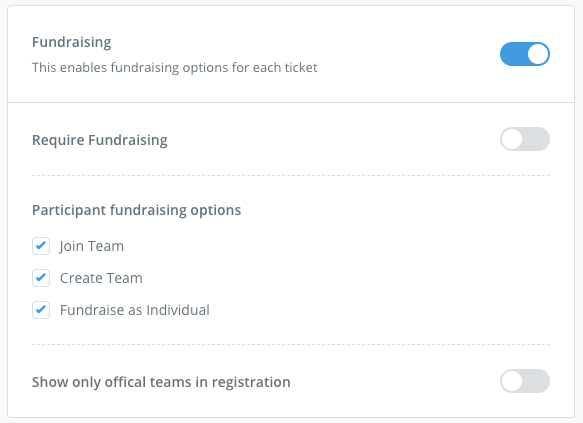 Note: If you have Fundraising Minimums, you must require fundraising. This ensures every participant has a fundraising page that is tied to their fundraising minimum requirement.
Enable Fundraising Minimums
Adding a fundraising minimum to your registration will require those registering for your campaign to agree to raise a certain amount by a deadline of your choosing.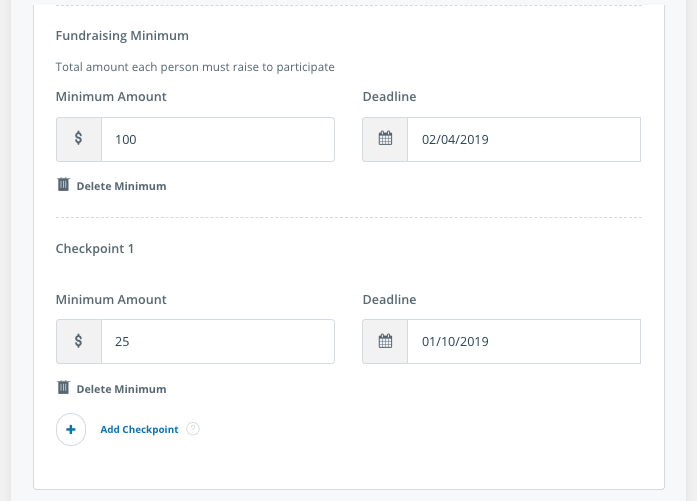 To add a fundraising minimum to a Ticket Option, toggle Fundraising on, then select "Require Fundraising Minimums." Add checkpoints to create milestones prior to your final deadline.
Note: If you want every registrant registering for this ticket type to agree to a Fundraising Minimum, you must also toggle "Require Fundraising."
To learn more about fundraising minimums, click Here.
Generate PDF Tickets
Toggling "Generate PDF Tickets" will provide the buyer with a downloadable ticket and emailed ticket following their transaction.
Enable this option if you have event check in or wish your participants to have physical confirmation of their registration
Example ticket: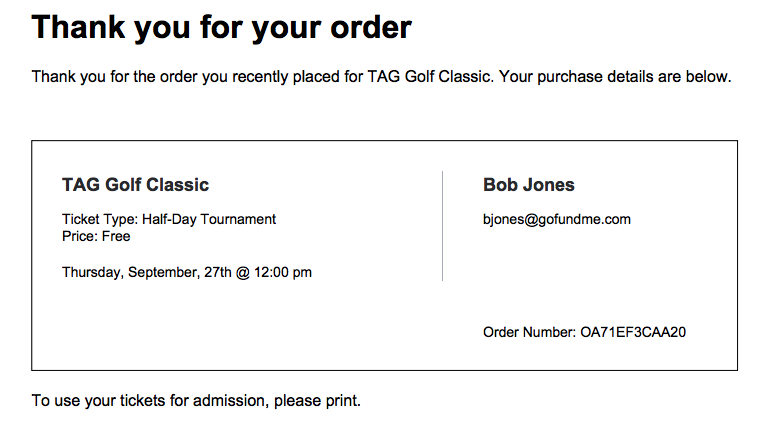 Adding questions to your form
Custom questions allow you to get to know your supporters better by asking questions during the registration process.
Buyer Questions refer to what information you wish to ask the purchaser/ individual who is completing the transaction. As a reminder, the buyer is not necessarily a participant for an event.
Participant Questions allow you to collect information about additional participants. Keep in mind, this will only turn on if you have group registration enabled.
Example of what it looks like when group registration is off:
Example of what it looks like when group registration is on:
If you only want one person per ticket, please turn the group registration max to 1:1. This will turn participant questions on, but prevent multiple people from registering under one ticket option.
Note: First Name, Last Name and Email Address are required fields for all participants.
Select "Buyer questions or Participant questions" from the sidebar to specify what additional information you want to receive from who.
For example:
Please list your emergency contact name
Would you like to subscribe to our mailing list?
How did you hear about this event?
Be sure to order your form questions correctly, as you are unable to reorder them once they have been added.
How to add questions
1. Select the type of response you wish your registrant to provide from the dropdown (e.g radio buttons, checkbox, etc)
2. Add the answers in the space below
3. Click the "+" sign to add additional response options.
Responses to all form questions (Buyer and Attendee) will populate in the Registration/Ticketing Report- Attendee for each campaign
Pr- Tip: Check whether or not a response is required to complete registration on the right side of each question.
Promo codes
Promo codes allow you to apply discounts to certain ticket options, making it easy to set options like early bird pricing and discounts.
Note: Promo codes will be automatically applied to the most expensive ticket at checkout. A Promo code will apply to one ticket in the cart, only.
Discount amount - Apply discount by dollar amount or percentage of total ticket price.
Promo code uses - Allow a limited number of registrants to use the code, or open it up to unlimited uses.
Start and end times - Set a time frame in which your promo codes will be valid.
Select ticket options - Select the ticket options you would like promo codes to be valid for.
Waivers
Many events, like runs and walks, require Waivers from participants in order to participate.
To include a waiver, click the "Waivers" icon on the left hand column and select the "+" sign. Enter a Waiver name, then select the "+" sign to upload a pdf document.
Agreement to waivers are required fields in registration, located underneath "fundraising options." Each participant must agree in order to complete his/her transaction at checkout.
Tip: You may include more than one Waiver by clicking the "+" sign at the bottom of the page.
Confirmation Emails
Once a user has completed registration, 1-2 emails will be automatically sent to the email address used to register. The user will receive:
A

Registration Confirmation email

including ticket summary and order number.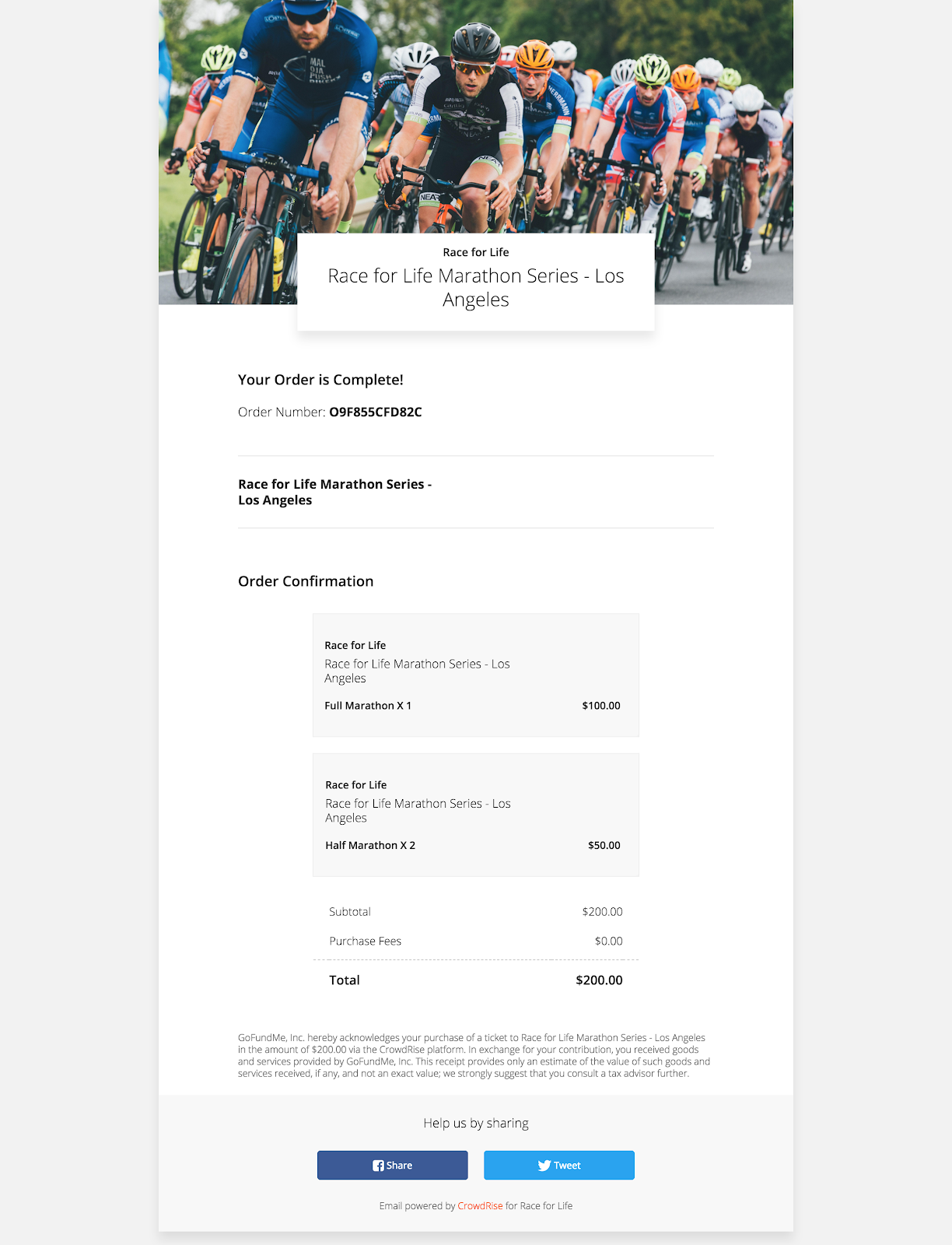 Nonprofits have the ability to customize parts of this confirmation email. To learn more, check out How to customize campaign emails.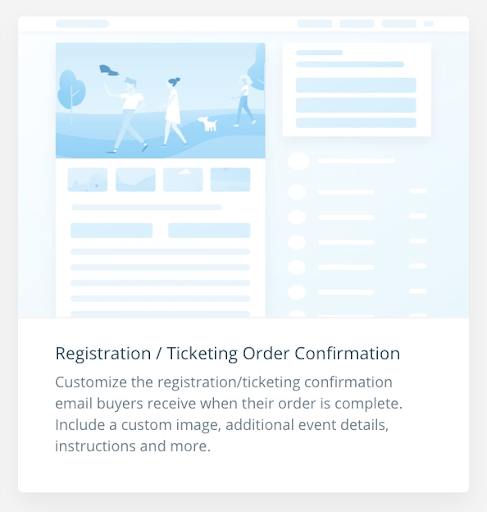 2. An Accept Fundraiser email to access and publish a campaign (if fundraising was enabled and the user chose to create a campaign).
Another way to accept is by navigating to the Campaign Hub and clicking the Accept button on any unaccepted campaigns.
Leverage Registration and Ticketing Reports
An advantage to using GoFundMe Charity registration is that all information collected in the registration process will be recorded in your Report Center.
Access the Report Center from your Navigation Panel, your Main Menu or in your Campaign Manager.
Add Registration/Ticketing to Team Fundraisers
Want to empower your teams to add Registration/Ticketing as a part of your campaign? Click on the Multiple Teams card then the Settings tab to toggle this option on.
By enabling this setting, your Team Organizers are able to add a Registration/Ticketing component to their campaign. This allows for their team members to join the team via registration.
For example: If you're running an event series (e.g. 5K Fun Runs) with multiple locations and event days, each Team Organizer could add a Registration for their team that is specific for their event time and date (e.g "Detroit, MI August 16th Fun Run").
Configure Tax Variability Settings
Set the correct monetary amount supporters can deduct from their taxes when completing a registration transaction.
What is tax variability?
Nonprofits are required to provide the appropriate level of transparency and receipting to their supporters around the tax-deductibility of their contributions. If you're utilizing GoFundMe Charity Registration/Ticketing to collect fees or donations and WePay* is your payment processor, you'll have the ability to identify the deductible portion of the cost of a ticket so your supporters can deduct the appropriate amount for tax purposes.
*Tax variability is limited to nonprofits using WePay as a payment processor and is not available for nonprofits using PayPal Giving Fund as a payment processor, since PPGF is a Donor Advised Fund and only processes donations that are 100% tax deductible. If you'd like to sign up for WePay in order to leverage tax variability, Click Here.
IMPORTANT NOTE: If you have any questions about whether the ticket option you're adding is tax-deductible, or how much of your ticket should be tax deductible, please consult a tax professional.
How does it work?
When adding a ticket option to Registration, the campaign organizer can set the deductible amount by a dollar amount of the ticket cost, or a percentage of the ticket cost at any amount between 0-100% of the ticket cost.
Once updated, the tax deductibility of all purchased tickets is itemized in the "Charitable Tax Deduction" section of the registration confirmation email.
Note: Non-charity users will not see the Tax Deductibility settings.