This article will describe the key elements of a General Report, including Dashboards and Visualizations
When you click on one of the cards in the Report Center, you are taken to a default Dashboard for that Report. A Dashboard is a collection of visualizations, text, and queries that are displayed like tiles together on one page.
Here's an example of the Transactions Dashboard.
The Dashboard contains Visualizations highlighting various versions of that data set. Visualizations display information in a way that allows you to see the story within the numbers. This may often be represented as an average amount, a chart, or a graph.
Here's an example of some Visualizations found at the top of a Transactions report.
One type of Visualization is a data table. In each report, a filtered version of your data will populate in the data table below.
Expand the filters bar at the top to customize what you would like to see in the data table. After updating, be sure to click Run.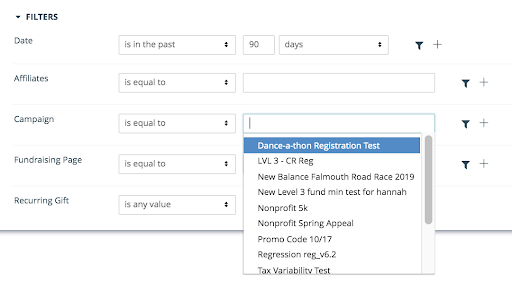 Sort by column by clicking on the arrow next to the name of the column.
Change the time zone to match your time zone.
Note: Keep in mind that there can be a delay (up to 45 minutes) between the time a transaction occurs and the time it appears in a report.