Fundraising Minimums explained
Fundraising minimums allow campaign organizers to set a minimum amount that individual team members must raise to join the team. When joining a campaign with a fundraising minimum, a user must provide their credit card and agree to raise the minimum amount by the deadline chosen by the campaign organizer. On that deadline, the user will be charged any remaining difference between the minimum and what they raised. For example, if the fundraising minimum was $500 and they raised $450, they would be charged $50 on the deadline.
There are 2 ways that fundraising minimums can be enabled on your campaign.
Campaign fundraising minimum
Registration fundraising minimum
All fundraising minimum data will show up in your Fundraising Minimum Manager, where you'll have the ability to edit and update minimums for all of your supporters.
How to set up a campaign fundraising minimum
From your Campaign Hub, click into the Campaign Editor, then click on the Edit card, and select the Settings tab.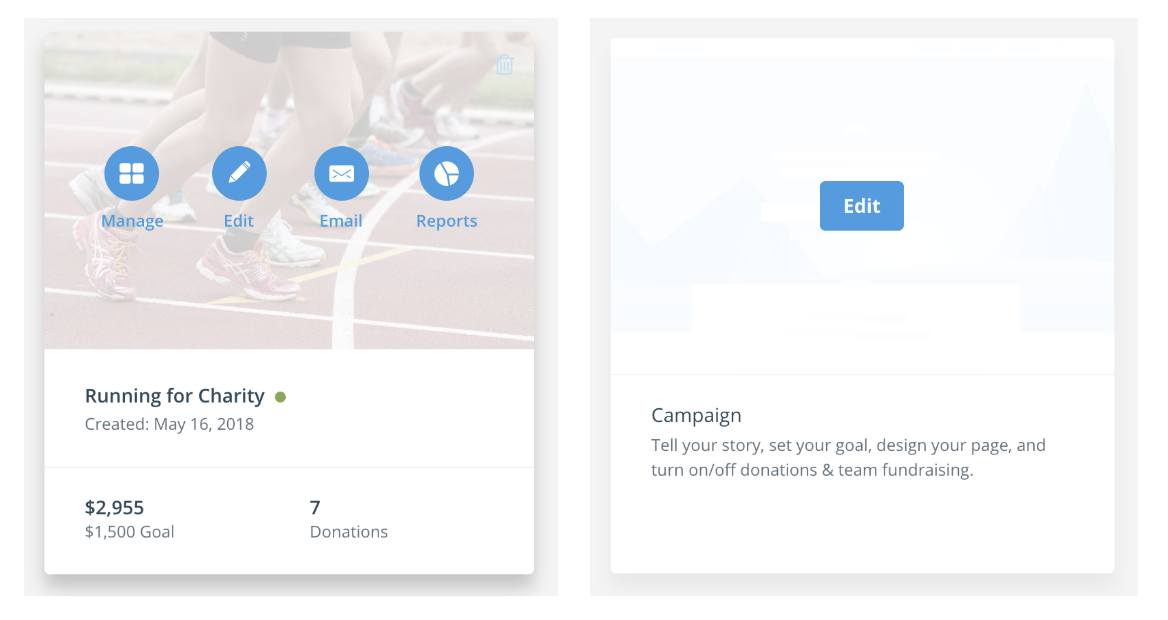 Scroll down to select the Enable Fundraising Minimums toggle.
If you're running a campaign with Multiple Teams, you'll have the ability to control fundraising minimums yourself or allow teams that join your campaign to set their own fundraising minimum requirements.
If you choose to control fundraising minimums, you'll also have the ability to decide whether this minimum amount is required for all teams, or, just Official teams and the fundraisers who join those teams. To mark a team as official, click "Mark as Official" in the Teams tab of the Activity feed.
Next, add the dollar amount required and the deadline by which your supporters must raise that amount.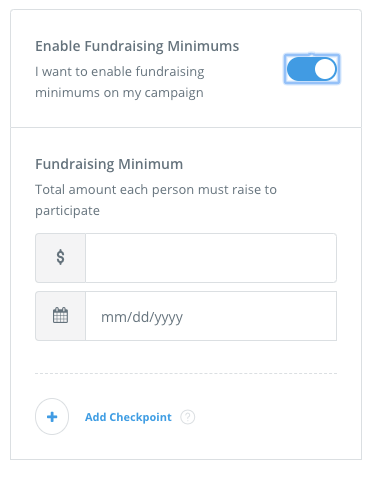 Checkpoints
Add a checkpoint to your fundraising minimum to require your supporters to raise a portion of the full minimum amount by a date prior to your final deadline. For example, you may add a checkpoint halfway through your fundraising minimum time-frame to ensure that your team is on pace for reaching their end goal. You may add up to 9 checkpoints in addition to a final checkpoint.
Fundraising Minimums agreement
Once you have set up a fundraising minimum, each subsequent participant who joins your campaign will be prompted to agree to the set amount and date before they can officially join the team. They must enter their payment information before moving forward-- this puts an authorization on the credit card which will only be charged if the team member fails to raise the agreed-upon amount.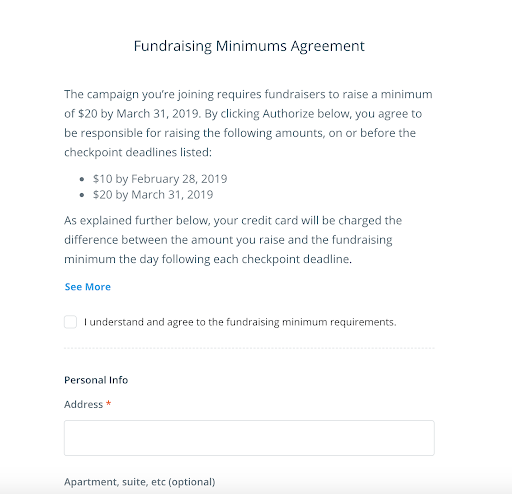 Fundraisers who leave the page prior to authorizing the fundraising minimum will be presented with this screen the next time they login to their GoFundMe Charity account. They will be unable to edit and manage their campaign until they've added their credit card information.
Once a user has agreed to a fundraising minimum, they will be able to keep track of their fundraising progress under the Campaign Manager.

A window is visible at the top of the page reminding the user how much they have left to fundraise and how long they are charged.
By clicking the "+" icon, the window will expand to display more details, including Amount Raised, Charge Date, Minimum Due and Credit Card used to authorize:
By clicking the "Share your campaign" link, you will be prompted to share your campaign on Facebook.
How to set up a Fundraising Minimum in registration
If you've enabled Registration/Ticketing as a part of your campaign, you'll also have the ability to set up fundraising minimums that correspond with your Ticket Options.
Note: If registration is required, all fundraising minimum setup will take place under the Registration/Ticketing card. You will be alerted if you attempt to add a campaign fundraising minimum from the Campaign Editor.
Setup:
Under your campaign Edit view, click on the "Registration/Ticketing" card.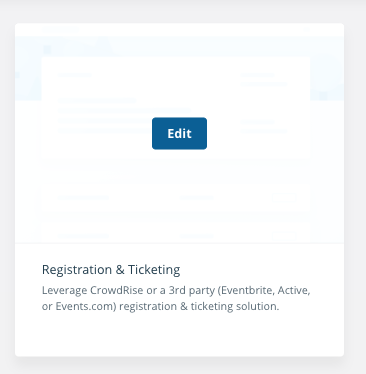 Click to Ticket Options on the sidebar. For each ticket type, you have the opportunity to set a fundraising minimum.
To set a fundraising minimum on a ticket type, click on the gear icon to access Advanced Settings, then scroll down to Fundraising.*
Toggle Fundraising on, then select "Require Fundraising Minimums." Fundraising must be enabled on a Ticket Option to have a Fundraising Minimum in place.
Note: If you want every registrant registering for this ticket type to agree to a Fundraising Minimum, you must also toggle "Require Fundraising."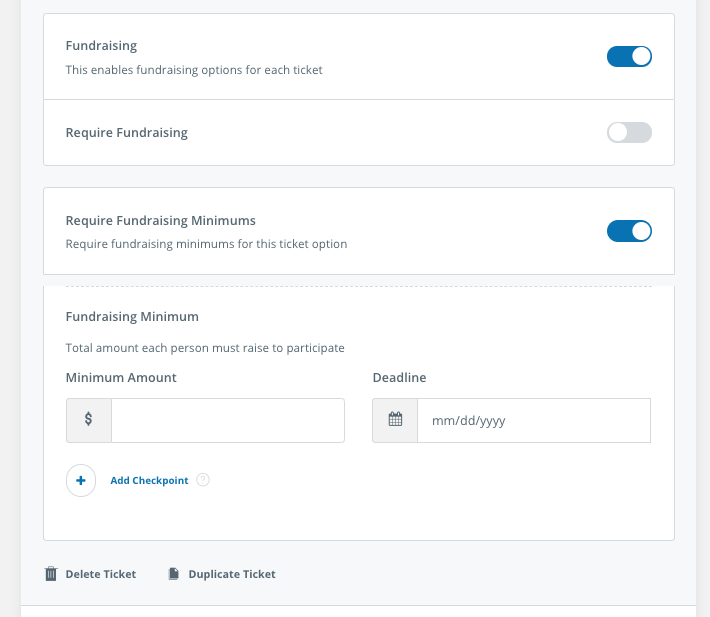 4. Enter the fundraising minimum amount in the space provided, followed by the deadline. The deadline is the last day for the registrant to raise the agreed-upon amount.
You may also add checkpoints to your fundraising minimums, as described above.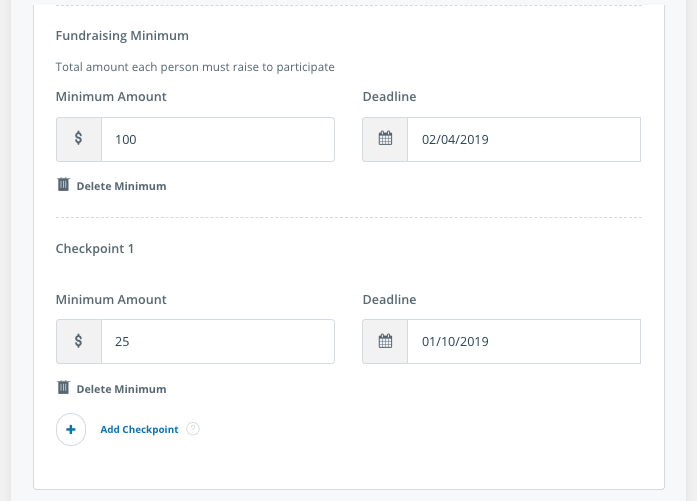 5. Click Save to confirm your Fundraising Minimums.
User Flow
Your registrants will be alerted to any ticket types with required fundraising and required fundraising minimum with a note below the ticket price when viewing registration.

During fundraiser-creation, users are required to check the fundraising minimum agreement box in order to proceed.
When opened, the box displays the full Fundraising Minimum agreement.
(Example Agreement)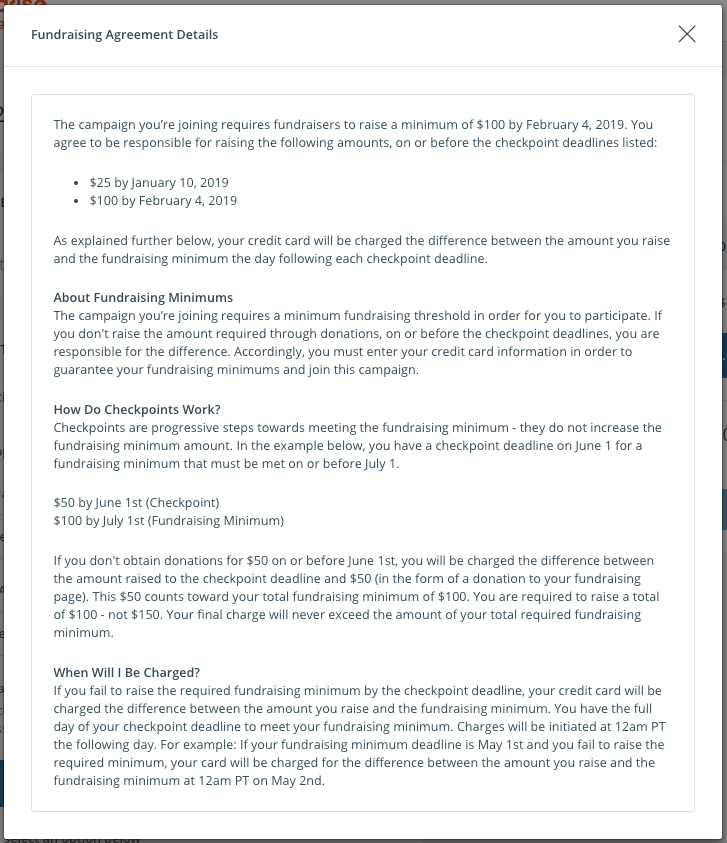 Registrants are also presented with the fundraising Minimum amount under the order total at checkout.
Once the registrant has checked out and completed their transaction, a fundraiser will be launched under the registrant's account.
*Note on Group Registration: "Group Registration" must be turned on if fundraising minimums are in place. This ensures a fundraising page is created.
If Group Registration is turned on in conjunction with fundraising minimums, each participant will have to agree to the fundraising minimum schedule attached to the ticket. This means that if 4 people register in a group for a ticket category that has a $100 fundraising minimum, each registrant must agree to $100 separately.
We recommend keeping the Minimum and Maximum Required Participant caps at 1:1.

How to manage fundraising minimums
As the campaign organizer, you have the ability to access and edit information on your team's fundraising minimums by heading to your Fundraising Minimum Manager.
To begin, head to your Campaign Manager and click on the Fundraising Minimums link next to Overview.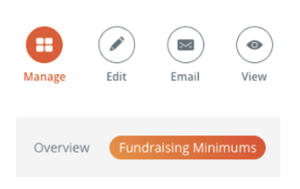 Your team will populate in your Fundraising Minimum Manager, where you can use the dropdown to filter your team into various groups. To make changes to multiple fundraisers at once, click on the checkbox next to the users' names when the manager is minimized.
Click Export to download a CSV file with your team's fundraising minimum information.
Click on the plus sign to expand the manager for a specific team member.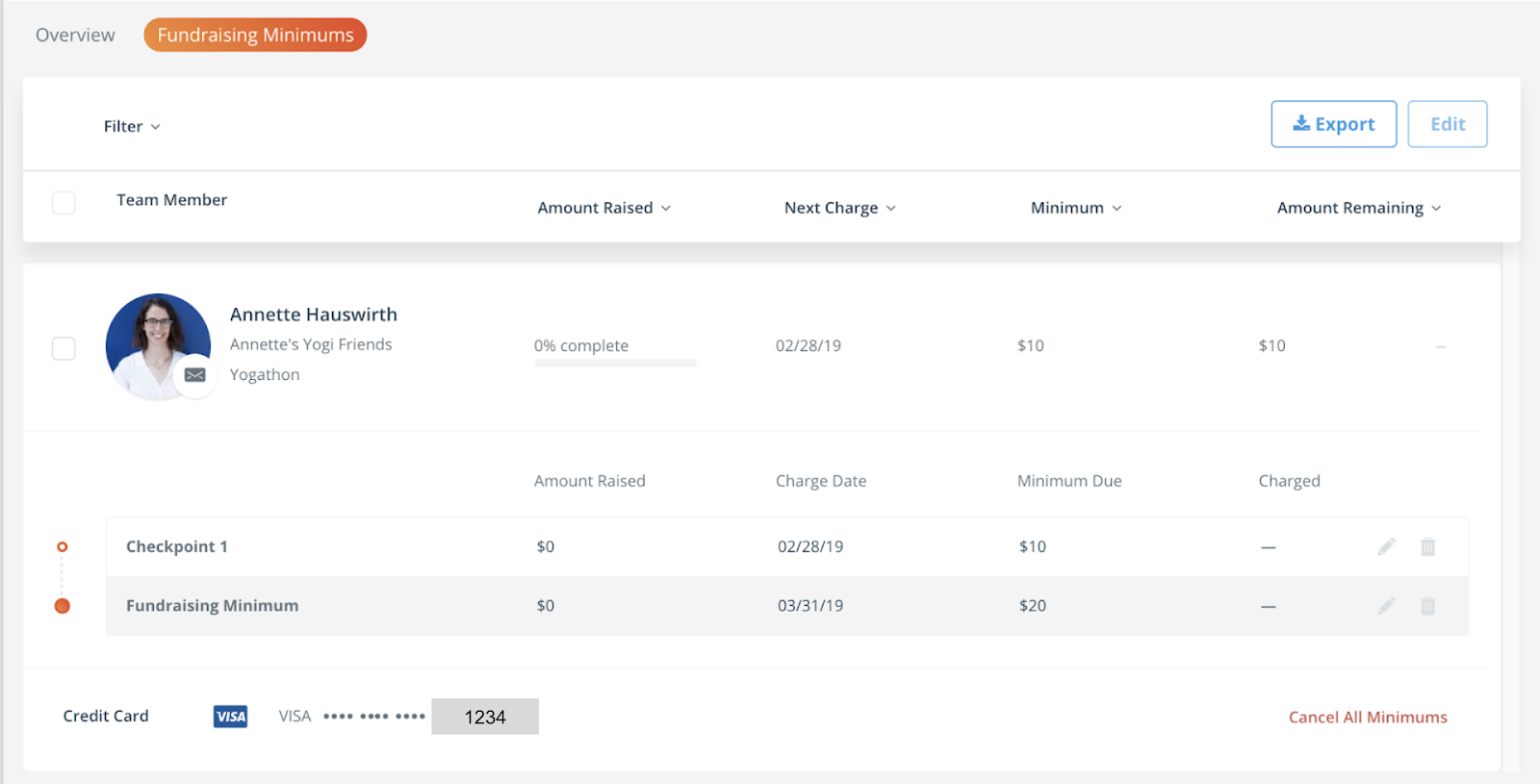 Click Cancel All Minimums to remove the fundraising minimum and any associated checkpoints for your team.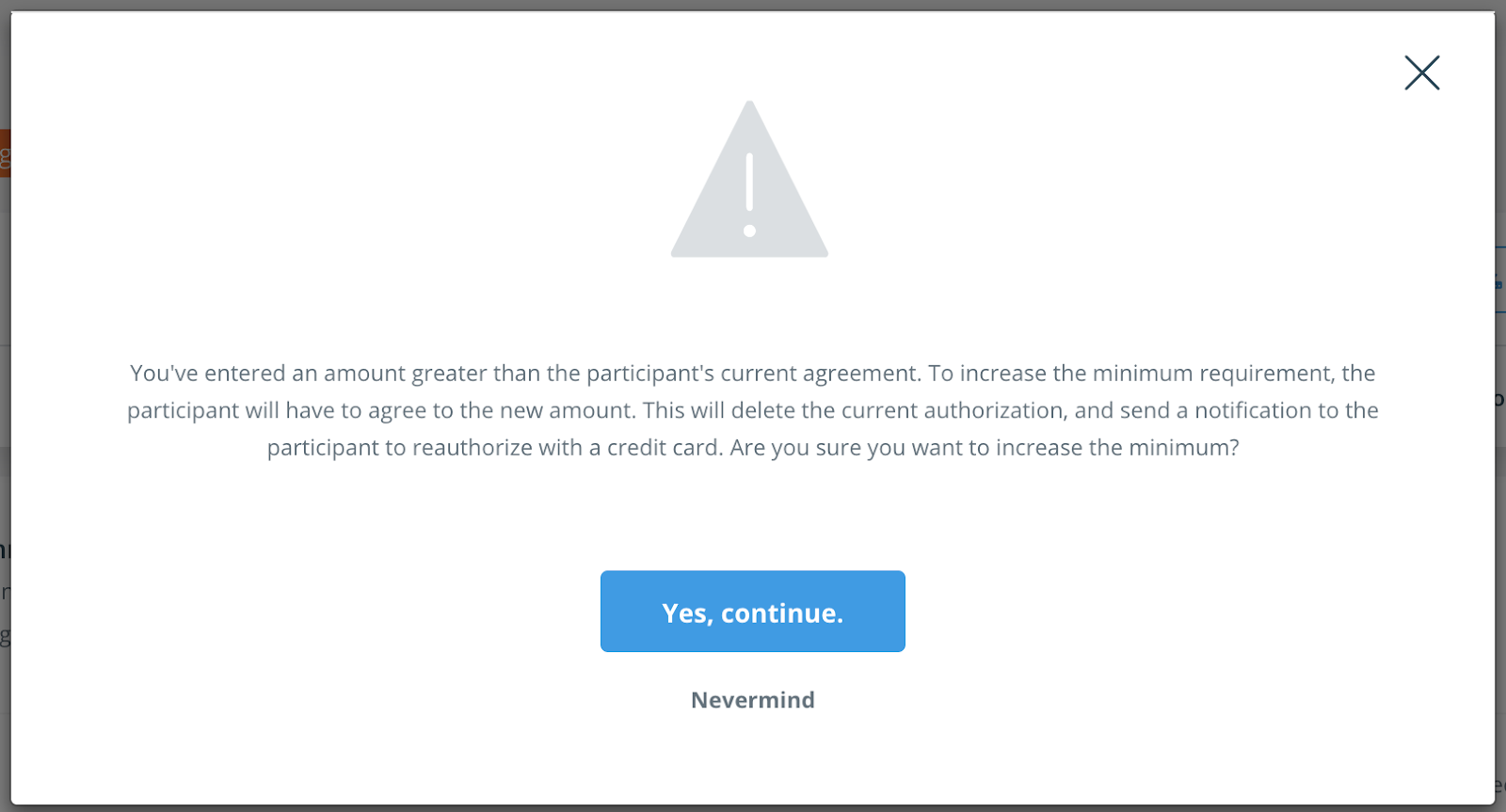 If you need to increase the minimum amount, your fundraisers will have to reauthorize the fundraising minimum. Taking this action will delete the original authorization and require that your fundraisers reauthorize with their credit card.
You can also add a Fundraising Minimum for an individual after they have joined your team. The participant will be prompted to authorize the minimum the next time they log in to their fundraising page.
From the Fundraising Minimum Manager click Add New Participant.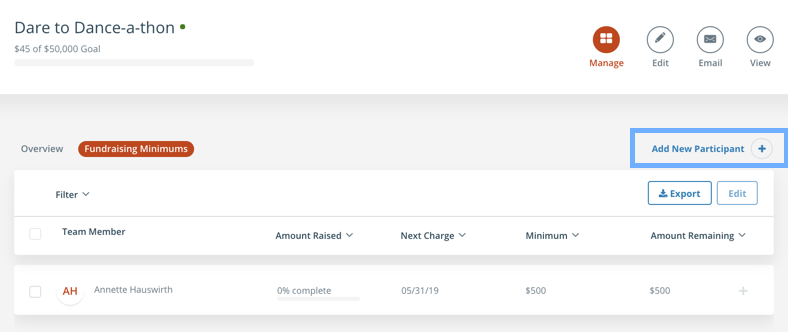 Then select the Team and Team Member to whom you would like to assign the Fundraising Minimum. Add the amount and deadline.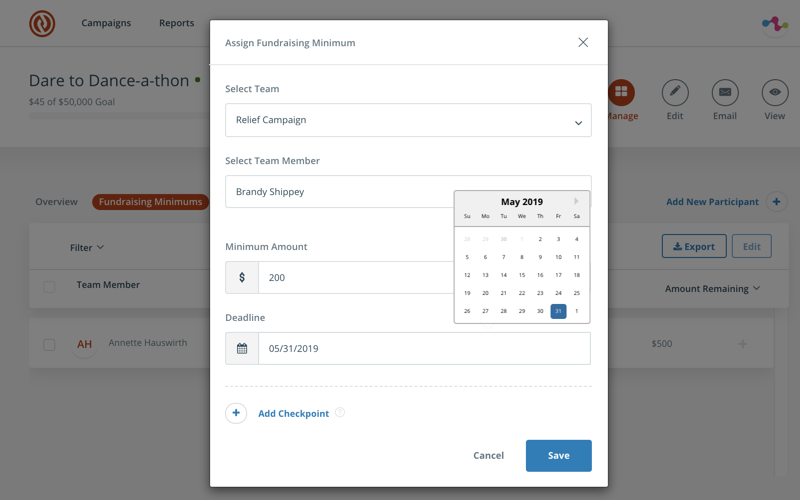 Be sure to click Save after making any edits.
Other important notes
1. Changes to fundraising minimums do not occur retroactively
Any changes made when editing your campaign will not affect any participant who has already agreed to a fundraising minimum. To make changes to fundraising minimums who have already authorized, go to the Fundraising Minimum Manager and edit each participant individually.
2. Date and time of fundraising minimum charge
The actual date/time a fundraising minimum charges is the following day on or about 3am PST (6am EST). Example: If a fundraising minimum is set to fire on 4/5/2019, the credit card will be charged on 4/6/2019 at 3am PST (6am EST).
3. Offline Donations
By default, offline donations do count towards fundraising minimums. If you are concerned about the authenticity of any offline donations, you may disable the ability for your team members or participants to enter their own offline donations under the Edit tab of your campaign.
FAQ
Can I edit my fundraising minimum?
Once a participant has authorized the fundraising minimum, campaign organizers have the ability to extend the deadline or lower the total amount required in the Fundraising Minimum Manager. A campaign organizer cannot move the deadline date up in time (e.g. from 10/10/2018 to 9/01/2018). If you wish to increase the amount (e.g $500 to $800), participants will have to reauthorize their credit cards. This means that the previous authorization will be lost, and the participant will have to log in and input their credit card information an additional time. If possible, we recommend not making changes once participants have already joined your campaign or agreed to a fundraising minimum. When this occurs, you risk losing agreed-upon donation money and/or attrition from your participants.
I changed my fundraising minimums' date/amount but the fundraising minimum charged as it was set up originally. What happened?
There are a couple of reasons this could occur. For example, a previous authorization was still attached to a participant's card, an error or bug occurred when removing or changing a fundmin, or a user error may have occurred on the authorization, such as inputting incorrect dates or times.
To avoid these issues, be sure to double check all your changes and updates in the fundraising minimum manager and click 'Save' when complete. Notice anything buggy? You can reach out and we'll be happy to give it a look-over.
Why didn't my fundraising minimum fire?
Most commonly, a fundraising minimum will not fire because the credit card the participant originally used has since expired or was rejected because the transaction was flagged as fraudulent. It can also be the result of an incorrect billing address entered for to the credit card the authorization was placed on.
In both cases, it's best to reach out to the participant first to ask if they would place a donation for the remaining balance to their campaign, or choose to have a new authorization placed on their card for a date in the near future.
My fundraiser hasn't agreed to the minimum. What can I do?
If for any reason you check your fundraising minimum manager and find that a participant did not authorize their fundraising minimum, we recommend that you reach out to your team to remind them to authorize their cards. We find that it's more successful when you, as the organizer of the campaign, reach out to the participants directly. Users who receive a helpful note from a personal contact are more likely to take action and accept their fundraising minimum, rather than an automated message.
Full fundraising minimum agreement text
"The campaign you're joining requires fundraisers to raise a minimum of $1,000 by March 31, 2019. By clicking Authorize below, you agree to be responsible for raising the following amounts, on or before the checkpoint deadlines listed:
$[Amount checkpoint 1] by [Checkpoint 1 deadline]
$[Final Amount] by [Final deadline]
As explained further below, your credit card will be charged the difference between the amount you raise and the fundraising minimum the day following each checkpoint deadline.
About Fundraising Minimums
The campaign you're joining requires a minimum fundraising threshold in order for you to participate. If you don't raise the amount required through donations, on or before the checkpoint deadlines, you are responsible for the difference. Accordingly, you must enter your credit card information in order to guarantee your fundraising minimums and join this campaign.
How do Checkpoints Work?
Checkpoints are progressive steps towards meeting the fundraising minimum - they do not increase the fundraising minimum amount. In the example below, you have a checkpoint deadline on June 1 for a fundraising minimum that must be met on or before July 1.
$50 by June 1st (Checkpoint)
$100 by July 1st (Fundraising Minimum)
If you don't obtain donations for $50 on or before June 1st, you will be charged the difference between the amount raised to the checkpoint deadline and $50 (in the form of a donation to your fundraising page). This $50 counts toward your total fundraising minimum of $100. You are required to raise a total of $100 - not $150. Your final charge will never exceed the amount of your total required fundraising minimum.
When Will I be Charged?
If you fail to raise the required fundraising minimum by the checkpoint deadline, your credit card will be charged the difference between the amount you raise and the fundraising minimum.
You have the full day of your checkpoint deadline to meet your fundraising minimum. Charges will be initiated at 12am PT the following day. For example: If your fundraising minimum deadline is May 1st and you fail to raise the required minimum, your card will be charged for the difference between the amount you raise and the fundraising minimum at 12am PT on May 2nd.
Payment Details
Your payment information is stored securely with [WePay/PayPal Giving Fund]. If your credit card is charged, the entry on your statement will reference [WePay/PPGF]. If you're required to make a donation because you don't hit your fundraising minimum, your donation is processed by [WePay/PPGF] and will be non-refundable. A printable record of your donation will be emailed to you."